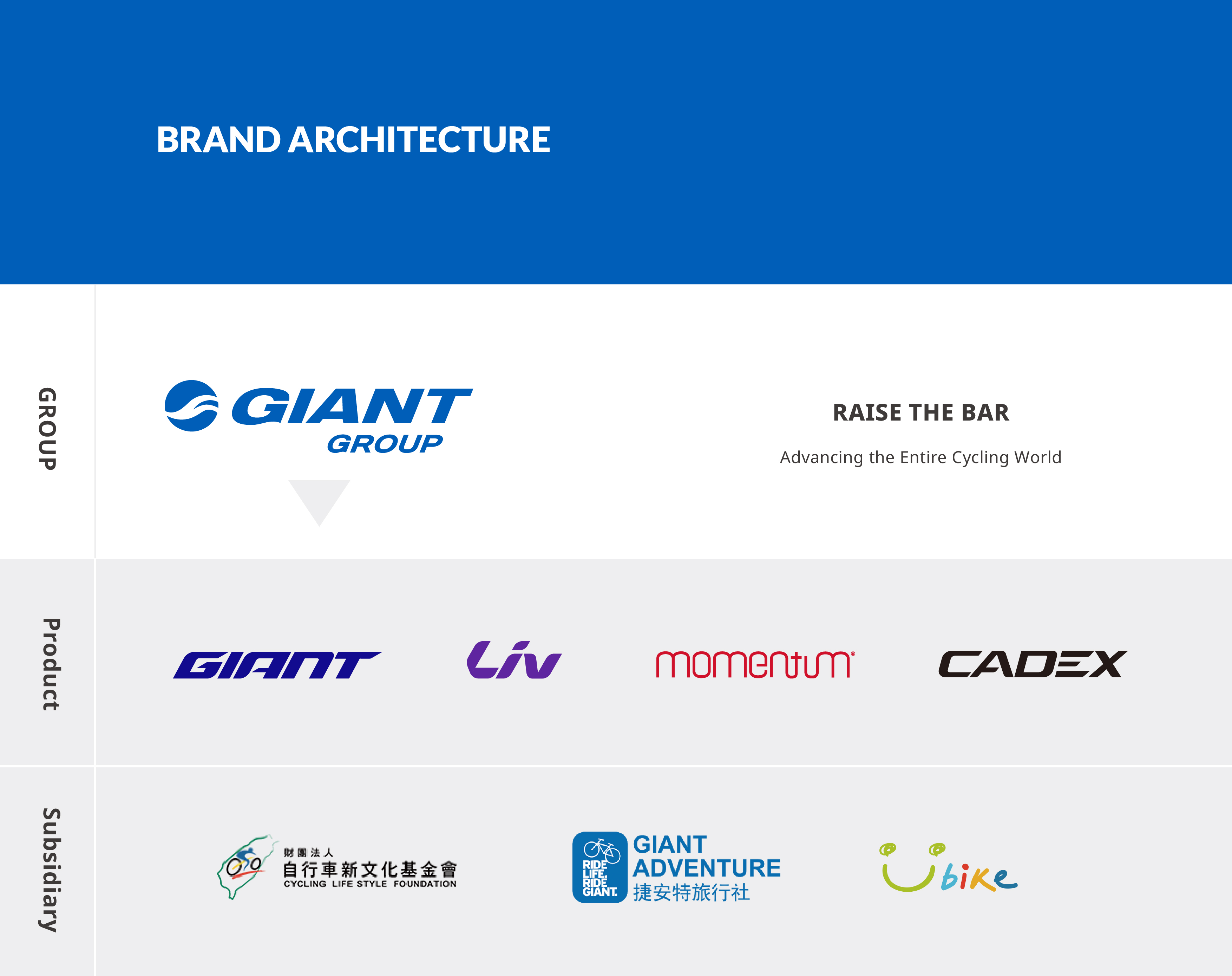 Giant Manufacturing Establishes New Giant Group Brand Architecture
Giant Group was established in 1972. With the Brand Purpose "Raise The Bar," it is committed to advancing the entire cycling world and actively promoting a new cycling culture worldwide. Today it is the world's largest bicycle manufacturer and operates four major product brands: Giant, Liv, Momentum and CADEX.
Giant Manufacturing announced its new Giant Group architecture, which will consolidate its resources and function as a parent company of multiple business units and brands. Giant Group was created to optimize overall corporate growth strategies, assist in the development of both OE brands and its own consumer brands, and continue to collaborate with its partners to lead the bicycle industry and create a better cycling world for consumers.
Giant Group has been an industry leader for nearly half a century. In its first ten years, it operated mainly in OE business. After that, it developed its own product brand, Giant, which has become a global leader in the market.
In order to respond to the growth of the industry and market changes, the Giant Group also established Liv, a women's-specific bicycle brand, and Momentum, a brand focused mainly on urban and commuter bicycles and gear. Last year, Giant Group launched CADEX, a premium bicycle component brand. This multi-brand operation prompted the Giant Group to initiate a brand rejuvenation plan. After two years of planning, a new brand structure including a new business-to-business website has been officially launched.
According to the new brand architecture, the first task was establishing a group-level brand independent of the product brand. Giant Group will stand on a global level and plan the development of its own independent product brands from a macro perspective. All strategies fully consider industry dynamics and provide corresponding guidance and support for each business.
With this new structure, Giant Group established its brand purpose: "Raise The Bar: Advancing the entire cycling world." Whether it is designing innovative bicycle frames, strengthening its production and technology capabilities, or developing shared urban transportation solutions, Giant Group always stands on the forefront of the industry. It also integrates the value chain and constantly pursues new innovations. The combination of exquisite craftsmanship and technology enables Giant Group to provide its business partners with wider business growth opportunities. Giant Group has been committed to promoting cycling culture, and will continue to convey the healthy and fun aspects of cycling through its different organizations in order to create a better cycling environment for consumers.
The goal of this new multi-product brand management structure is to shift from building a strong singular brand to building a strong brand portfolio. The Group brand not only objectively supports the development of independent product brands, but also strengthens synergies to strengthen the overall brand portfolio. And now the Giant consumer cycling brand can focus more on building a distinctive brand voice within the group.
Giant Group now has 14 sales companies around the world. Through a complete and seamless distribution network, it provides market feedback and insight to the four major product brands and various business entities. At the same time, Giant Group will also continue to support the Cycling Lifestyle Foundation, YouBike—the Public Bike-Sharing System, and Giant Travel Agency to jointly promote cycling culture and encourage more people to enjoy cycling.
Looking ahead to the next 50 years, Giant Group will use the brand management point of view to refine its capabilities and lead advancements within the cycling industry. Giant Group continues to look forward to the future and developing new opportunities for the bicycle industry to elevate the cycling experience for all riders.