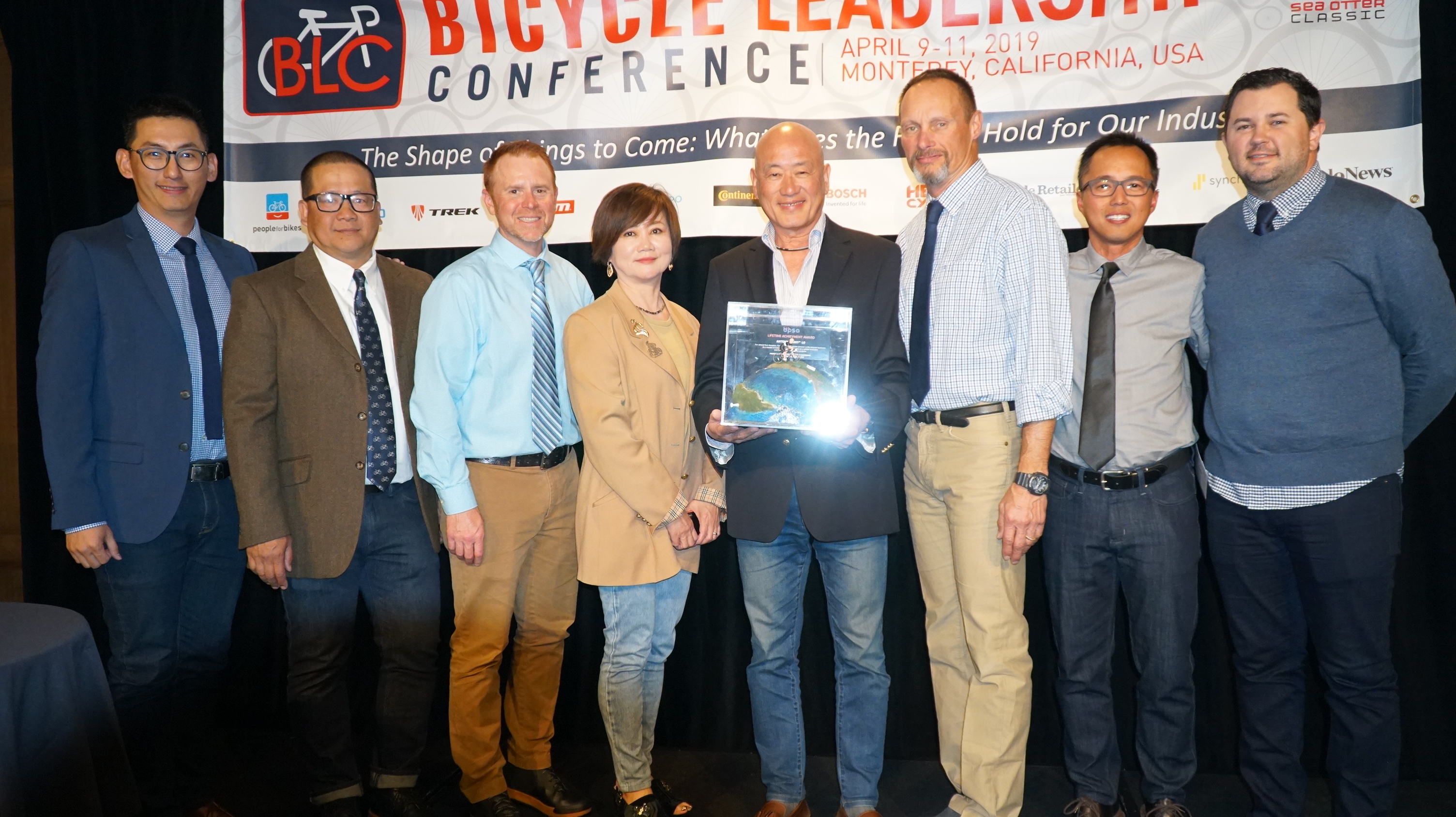 FORMER GIANT CEO ANTONY "TONY" LO RECEIVES BPSA LIFETIME ACHIEVEMENT AWARD Lo's passion and leadership recognized at annual Bicycle Leadership Conference awards dinner.
(April 11, 2019 — Monterey, California) More than 250 bicycle industry leaders gathered the evening of April 10 in Monterey, California, to pay tribute to Antony "Tony" Lo at the annual Bicycle Product Suppliers Association Lifetime Achievement Awards.
According to the BPSA, "For almost five decades, Antony 'Tony' Lo has been a pioneer in the bicycle business and leader in establishing Giant Bicycles as a global innovator in technologies, manufacturing, supply, branded products and OEM supply partnerships worldwide."
Several Giant Bicycles USA executives paid tribute to Lo as part of the awards. "Tony was really one of the forefathers who created the Taiwan bicycle industry and who also was a bridge to the United States on a supply standpoint," said John Munhall, Giant USA's Director of Product management in his introductory remarks.
In addition to playing an integral role in the development of Taiwanese manufacturing and the cycling industry there, Lo remains a valued mentor to the coworkers and industry leaders he works closely with.
Giant Global Marketing Director An Le said countless people have had the fortune to experience what he calls the "Tony Lo University": "Tuition to Tony Lo University is free. You just have to give your life to the bike industry (or in my case to Giant). Nobody ever graduates from Tony Lo University. I'm 15 years in and it's a lifelong growing process."
According to Giant Bicycles USA General Manager John "JT" Thompson, "We are all students of this gentleman who has been in the business for four decades. This bicycle industry in America sells approximately two-million bicycles a year through the specialty retailer and touches two million people. Well, Tony's touch globally has been more than three times that on an annual basis."
"I'm proud to say that Tony has made me a better man, a better leader, and cognizant of what it's like to be a better human," continued JT.
As Lo took the stage he was presented with a diorama of the globe with Lo cycling between Giant's Taiwan headquarters and the Giant USA Offices.
"After all these years, right now Giant is operating nine factories around the world and the Giant brand is a mature global brand," said Lo. "We have more than 10,000 employees and our annual sales exceed $2 billion U.S. Dollars. Not too bad."
"Of course I cannot do it by myself," Lo Continued. "I am very lucky and blessed to have a great team working with me and behind me. And so, at this moment, I'd like to share the honor with my team here at Giant USA. Thank you very much."
Not surprisingly, Lo's passion for cycling remains strong. Prior to the Bicycle Leadership Conference, Lo participated in Eroica California, riding the 35-mile route on a vintage Giant RS950, an appropriate reminder of how far the Giant brand has developed and a visceral connection to his early years at the company.
On December 31, 2016, Lo and Giant founder and chairman King Liu retired from the company they started 44 years earlier. Lo currently is working closely with the Japanese and Korean markets to increase participation. Both continue to be 'missionaries' for cycling, promoting the bicycle as the key to better health and less pollution worldwide.